IELTS August 2020 - Writing Task 1 Academic - Sample Band 9 Answer
Aug 28 2020 | Category:
IELTS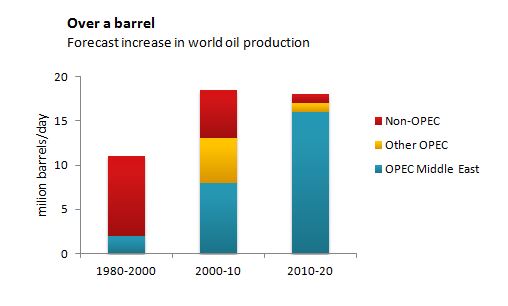 The bar chart above shows the production of the world's oil in OPEC and non-OPEC countries.
Write a short report for a university lecturer describing the information shown below.
Write at least 150 words.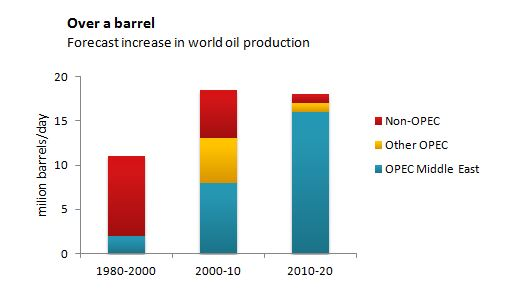 The graph gives presents data on the world's oil production in both OPEC and non-OPEC countries. The statistics clearly show that while the production of oil by Middle Eastern OPEC countries has risen considerably over the years.
Between 1980 and 2000, an overwhelmingly large part of world's oil came from non-OPEC countries; of the total production of 12 million barrels only about two million came from Middle Eastern OPEC countries. Other OPEC countries did not figure in this tally. This changed considerably in the years that followed. Between 2000 and 2010 about 12 million barrels have come from Middle Eastern OPEC countries and other OPEC countries put together. Non-OPEC countries share was half that of these two areas.
Between 2010 and 2020, the Middle Eastern OPEC countries took over the world's supply of oil. Other-OPEC and Non-OPEC countries accounted for about 2 million barrels each, while the OPEC Middle East dwarfed the combined output of these two areas by contributing around 16 million barrels.
Word Count: 160
Related
IELTS is easily the most popular English proficiency test. It's robust structure, and integrity is making it a valuable language assessment tool. Familiarity breeds contempt, and prevalence breeds misconception. Here are a few common misconceptions
Jan 19 2020
IELTS
This song has become something of a hot property. Everyone knows how to look for the meaning of the word, and by now everyone knows the meaning of samajavaragamana. However, we could not find any proper translations that explained the context. This
Jan 20 2020
General Interest
One of the most troublesome sections in English exams is reading comprehension. The challenge is that most of us are not used to reading, let alone reading with full concentration. If you are looking for a 'tip' to improve your RC performance, here i
Aug 17 2017
Quiz